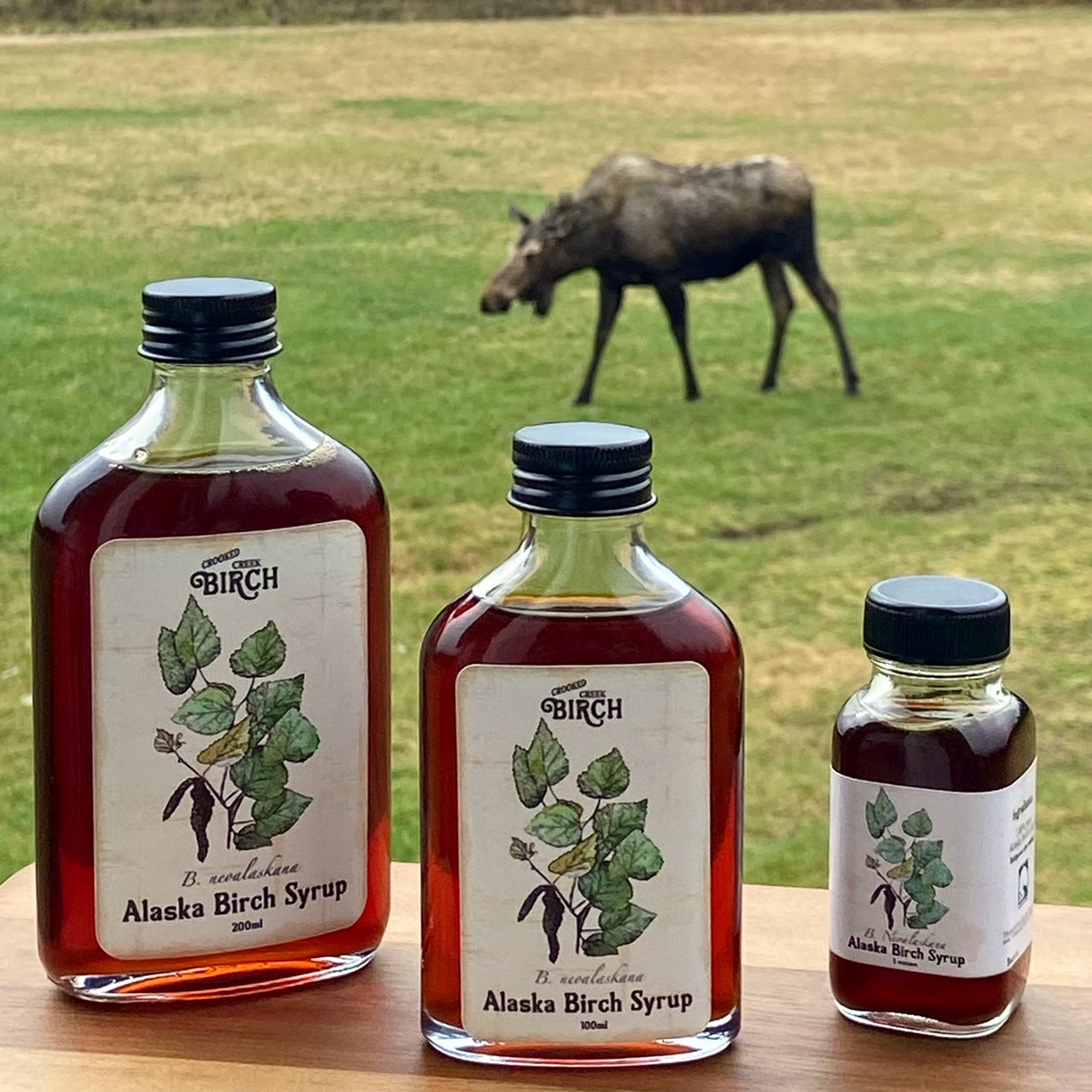 Nature's Alchemy
Crooked Creek Birch Syrup is sustainably harvested from the snowy boreal forests of Kasilof, Alaska. our small batch syrup is a true delicacy.

For three intense weeks in early spring, our team carefully taps the majestic Alaska Birch trees (Betula neoalaskana) to collect the precious sap. We then transform it into the unique and flavorful Alaska birch syrup that you'll find in every bottle.

It's a labor of love – with 110 gallons of birch sap required to create just one gallon of birch syrup, but we believe it's worth every drop, as it captures the essence of Alaska in its taste.
Good for you - good for the environment.
We're committed to sustainable harvesting practices and being good stewards of the forest, persevering and maintaining it for future generation come. We value the communities we live and work in and strive to work together to create strong and healthy social and economic relationships.
Experience the pure essence of the Alaskan wilderness with Crooked Creek birch syrup.
Regular price

$8.00 USD

Sale price

$8.00 USD

Unit price

per

Regular price

From $24.00 USD

Regular price

Sale price

From $24.00 USD

Unit price

per

Regular price

Sale price

$3.00 USD

Unit price

per
Nice and light and sweet, shipped quickly. Will buy again!

The birch syrup was delivered promptly, packaged beautifully and tastes really great. Thank you very much!

This came so quickly! It was a Father's Day gift and he loved it!

So delicious. I like it better than maple syrup. Super fast shipping.

My husband and son loved it!

It's just so good! I put it in my oatmeal every morning.

This syrup is so delicious! A great alternative to maple syrup on pancakes.

Wonderful flavor, and exceeded expectation

The Alaskan Birch Syrup is very good and tasty.
FAQs
What is birch syrup?

Birch syrup is produced much like maple syrup. It is made by concentrating the sap from the birch tree, using reverse osmosis and evaporation. Crooked Creek birch syrup is produced from the Betula neoalaskana (Alaska Birch) tree.
Does it taste like maple syrup?

Birch syrup does not taste like maple syrup and has a much different and complex flavor profile. The sugar content is much lower and the sap contains different minerals. The earlier produced syrup is lighter sweeter and the later is darker and more tangy, similar to brown sugar and molasses with fruity notes. It takes approximately 110 gallons of birch sap to make 1 gallon of birch syrup. In comparison, maple syrup takes 40 gallons of sap to 1 gallon of syrup. Different species of birch tree produce different flavors of syrup, making the flavor of Crooked Creek birch syrup unique to Alaska.
How can I use birch syrup?

Birch syrup can be used in both sweet and savory dishes. It works well on anything from oatmeal, waffles, Italian soda, vegetables, in salad dressings and marinades and on salmon. A little goes a long way!
Is birch syrup healthy?

Birch syrup contains dozens of trace minerals and has a lower sugar content and lower glycemic index than maple syrup. Birch syrup is mainly fructose and glucose with small amounts of sucrose, while it's cousin, maple syrup is mainly sucrose. Some trace minerals include manganese, thiamine, riboflavin, calcium, copper, and iron It is not a low calorie food.
What is sustainability?

"Sustainable development meets the needs of the present without compromising the ability of future generations to meet their own needs." (The Brundtland Commission, 1987)

For Crooked Creek Birch, this means we are mindful of our impact on the environment. We strictly follow all best practices when we harvest our sap to not only maintain the health of the trees we tap, but the entire forest as a whole.

We also strive to run our business with a low carbon footprint - using recyclable materials when possible, glass bottles with metal caps for our birch syrup and packaging our soaps without plastic.